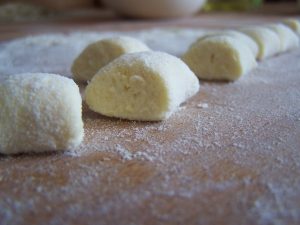 After I had my homemade Ricotta, I did directly the next thing on my toDo list:  Ricotta-Gnocchi.
Since Nicky of  DelciousDays posted them in her Blog I could admire them allready at the blogs of Petra (Chili und Ciabatta) and Claudia (Fool for Food). The gnocchi looked so delicious, that I had to try them. Because in both post they tell that the dough is very sticky I was not afraid and resist the whish to add more flour. To form gnocchi with this sticky dough is easy, when you follow the recipe: "Generously flour a board, take a big tablespoon of the dough and scoop it onto the board. It gets dusted with flour (dust your hands generously, too!), before rolling it into a finger-thick roll"
The gnocchi bear their name rightfully: I decided around 1 p.m. that I want to make them for lunch and we had them on our plates at 1.15 p.m.  A very delicious meal!
The recipe is enough for to with not to much hunger, if served with a great portion salad.
15 min-Ricotta-Gnocchi
250g Ricotta (Stefanie 200g Ricotta plus 50g Quark)
1 egg yolk
1 generous Pinch salt
40g freshly grated Parmesan
60g flour
Discard liquid the Ricotta's packaging may contain, then mix all incredinets with a spoon. The dough will be sticky, but if you add more flour now, the gnocchi will be dense!
To form the gnocchi generously flour the countertop, take a big tablespoon of the dough and give it on the floured countertop. Now dust it with flour and roll into a  finger-thick roll.
Meanwhile heat a large pot of water untill it simmer, add some salt and asd the gnocchi and stir carefully, so they don't stick to the bottom. Cook them untill they floating on the sureface. This take 2 to 4 minutes. Take them out with a skimmer.
Meanwhile melt 1 Tablespoon butter and add some sage and salt. Mix it with the gnocchi and serve immediately.