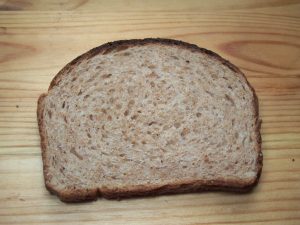 Like always I found on this weeks Yeastspotting a lot of breads I want to try. Especially the JMonkey's Buttermilk and Honey Whole-Wheat Sandwich Bread from Toxo bread went on top of my toDo list. It sounds perfect for me: 100% whole grain and honey. Because I had some yoghurt in the fridge, that need to be used, I followed toxobread and mixed yoghurt with milk and used it instead of buttermilk.
The recipe yields a very delicious fluffy and moist bread, with a decent hint of acid from yoghurt balanced with sweet honey. The honey I used is a mild creamy summerflower honey and I get it from my boyfrinds granddad, who is beekeeper.
Yoghurt and Honey 100% whole grain Bread

ergibt 2 Brote
1 kg wheat (frisch grinded)
200g yoghurt
180g milk
380g water
80g mild honey
20g salt
30g soft butter
10g fresh yeast
Mix alle incredients 5 min at slowest speeed, then around 8 min on fast speed untill complete gluten develolpment
Ferment for 2 hours.
Divide the dough into 2 parts and flatten to an rectangle. Rest for 30 min. Now degas the dough (to NOT knead!) and roll tightly to  loaves.
Place in a buttered pan and proof for 1 hour.
Bake with steam at 200°C for about 50 min.