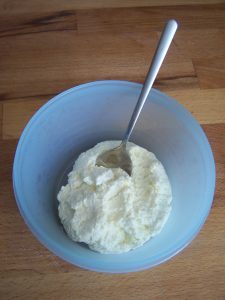 To make my own Ricotta is one of the things I have for a long time on my toDo list. I read a lot about it in diffrent blogs and it sounds not to complicated. The only complicated thing was to choose a recipe, because there are so many diffrent varients:  Claudia of Fool for Food used buttermilk, like Lauren of I'll eat You,  Nick & Sara of IMAfoodblog used whey from their mozzarella production and the Hedonistin (Low Budget Cooking) grapefruit juice.
I also found variants using vinegar, citron juice or magnesium sulfate. For my first trial I choosed citron juice, but the Ricotta this recipe yielded hat a sour taste and it structure was similar to cottage cheese.
So I resarched a little bit more and found the comment von Ostwestwind (Küchenlatein) on Low Budget Cooking, that when using an acid like citron juice or vinegar you precipitate casein instead of globuline and albumine of the whey like in real ricotta.
So I need whey! Having not enough time to get whey by making my own mozzarella like  IMAfoodblog (though mozzarella making is now on my toDo-List) I buied a beaker of whey in the supermarket. And this time I was satisfied with my ricotta. Creamy with a very small hint of sour, very tasty!
Ricotta
yields 130g
500g whey
500g whole milk
Warm milk and whey to 70°C. Wait 30 min untill the precipitated Proteins comes up to the sureface. Ladle the curds in a sieve linned with a cheese cloth and let drain for 1 to 2 hours.
It should keep fresh up to 5 days in fridge, but my ricotta was used up directly, so I did not test this.