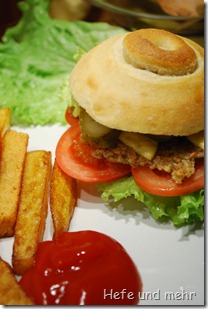 Sometimes we like to have some "Fast Food". But because we did fries, burger and rolls by our own, our "fast food" is not fast at all.
Especially because I bake the hamburger rolls with sourdough and poolish. That gives some flavour to the bread and creates a very thin crust.
That is good for people like me who do not like soft rolls with their (vegetarian) burger.
Hamburger rolls
Sourdough (100% Hydration)
20g Starter
50g water
50g flour Type 550
Poolish
2g fresh yeast
150g flour Type 550
150g water
Dough
120g sourdough
300g Poolish
500g flour Type 550
20g milk powder
30g canola oil
300g milk
10g fresh yeast
15g Salt
Mix water, flour and yeast for the poolish and ferment it overnight (16 hours).
Mix water, flour and starter for the sourdough and ferment it overnight (16 hours).
The next morning: knead 5 min all ingredients with the slowest speed and 5 min with higher speed until medium gluten development.
Proof for 1 hours.
Divide the dough into 10 parts and form to rolls. Proof for 1 hour
In the meantime heat the baking stone in the oven at 250°C.
Bake at 250C for 25 min with steam. (Spray water on the oven walls)