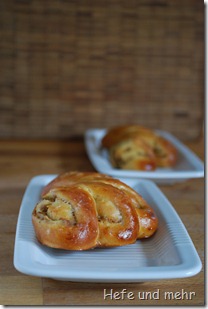 Last Sunday we visit my sister in the new house. Because "it's always good to have some pastry during renovation" (that's what my sister told me early on the phone) I decided to bring something sweet.
I was longing for something fluffy yeasted pastry. So I thought first of my favourite braid filled with nuts. But then I remembered that my parents would join us, too and my mum suffers of lactose and fructose intolerance. So the braid was out of question, we need something without milk and nuts.
So I started to think: What happened when I just leave out the nuts? Then I would end up with dried breadcrumbs as filling. Hmmm. Bread crumb as filling sounded a little bit strange. But on the other hand we eat noodles with sugar and bread crumbs as children, and we liked it. So I give the idea a try and the filling worked out just fine.
Seasoned with Cardamom and Vanilla nobody missed the nuts. And its a good way to used up dried breadcrumbs.
Vanilla Cardamom Fans
For 12 fans
Pâte fermentée:
90 g flour (Type 550)
60 g water
1g fresh yeast
1 g Salt
Teig:
150g Pâte Fermentée
250g flour (Type 550)
75g Egg (1,5 egg)
55g water
40g oil
5g yeast
2g Salt
30g sugar
Füllung:
200g Breadcrumbs
35g sugar
75g glucose
250g water
40g margarine
1 pinch salt
1 vanilla bean
1/2 tsp grounded cardamom
2 egg whites
Mix all ingredients for the Pâte fermentée and proof it for 1 hour at room temperature. Then put the dough into the fridge for 12 hours.
Dissolve the yeast in water, then knead in the kitchen machine with eggs, oil, salt, flour and Pâte fermentée for 5 min at slow speed.
The knead 7 min at middle speed. Because the sugar inhibits the gluten development, the sugar is added just now. Add always a tablespoon at once and knead in between always for 1 min.
Proof for one hour.
In the meantime toast the breadcrumbs. When they have a nice brown colour put them aside to cool down. Now heat sugar in a pot untill it starts to caramelize. Add the water and simmer until all of the caramel dissolved in the water. Stir in the breadcrumbs, salt, the seeds of the vanilla bean and the cardamom. Remove it from the heat and add the margarine. Let cool down, then fold in the egg white.
After the dough doubled it size half it and roll each half to a square with the length of 60 cm and the width of 25 cm.  Spread the filling on the squares and roll it from the long side to a log.
Cut the log into 10 cm pieces. Using your dough scrapper make four cuts on its long side up to 2/3 of the roll. Twist each piece slightly to make it lay flatter.
Proof for 1 hour.
Glaze with egg and bake for about 15 min at 180°C.