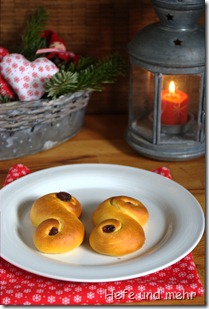 I fall in love with Lussekatter – Lucia cats – already last year. This little buns are from Sweden and are a traditional treat on 13. December. Last year I had no time to bake them but this year I made the little saffron buns punctual for Saint Lucia's Day.
Looking for an recipe in the Internet I realize that there are to groups of recipes: one using kesella – a kind of curd, the other one being a normal yeast dough. Adding curd to the buns helps to make them softer. But I decided to use no curd but to add some water roux to the dough which adds more moisture to the dough and makes it soft, too. Then I reduce the amount of yeast found in most recipes, and let the dough rest overnight in the fridge. The cold dough is much easier to handle at the next morning.
The lussekatter are a beautiful treat for the breakfast table during christmas time, with a beautiful yellow crumb and the gentle taste of saffron.
Lussekatter
Water roux
30 g flour Type 550
150g water
Dough
whole Water roux
150g milk
1 egg
10 g fresh yeast
5g Salt
500g  flour Type 550
0,25 g saffron
125 g Butter
80g  sugar
Topping
For the water roux whisk water and flour untill lump free, then heat it up to 65°C (needs about 3 min) while whisking. Fill the water roux in a bowl, cover its surface with cling foil and let it cool down to room temperature.
Grind the saffron with some sugar in a mortar, then add hot milk to the sugar-saffron mixture. Let the milk cool down to 30°C then dissolve the yeast in milk. Knead all ingredients for the dough for 5 min at slow speed . Because the sugar inhibits the gluten development, the sugar is added just now. Add always a tablespoon at once and knead in between always for 1 min. At last add the butter all at once and knead until the butter is completely incooperated.
Ferment for one hour, then place in the fridge over night.
The next morning: Divide the dough into 40g pieces. Roll each piece to a strand of 30 cm, let the strand relax for 10 min, then roll both ends to the middle forming a "S".
Proof for 1 hour, then glace with some cream and press a raisin in each spiral.
Bake at 250°C for about 12 min.
I sent this entry to Susans Yeastspotting, a weekly showcase of yeast baked goods.