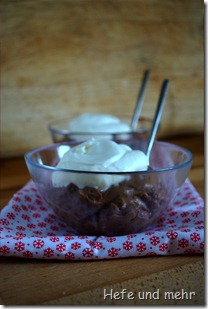 After Christmas I start normally with checking my pantry and fridge. We spent the holiday at our parents homes and at a huge family get-togther and everywhere we get delicious lunches and dinners so my fridge was nearly empty. But I found a bottle of milk which was a little bit over the date of expiry. I want to use the milk before it goes bad. So I used half of it for confiture de lait but for the other half I had another plan.
Since beginning of December there was a Chocolate Santa standing in the living room and no one wanted to eat him because the chocolate was a cheap quality. And what is the traditional fate of not eaten Chocolate Santas (or easter bunnies)? Right, put them in some chocolate custard.
So I heat milk, unwrap the Santa and gave him a little bath in hot milk. Because I like the custard on a dark chocolate custard I add an additional tablespoon cacao.
Chocolate Custard
1 Chocolate Santa (Wight: 200g)
500 ml Milk
1 Tbs Dutch processed cacao
40g Starch
Mix two Tablespoons of Milk with starch and cacao. Heat the rest of the milk and melt the chocolate in it. Bring to boil and stir in the starch milk mixture. Heat until the mixture thickens. Serve hot or cool. For cooling lay a Clingfilm on the surface of the custard to prevent the custard of forming a skin.