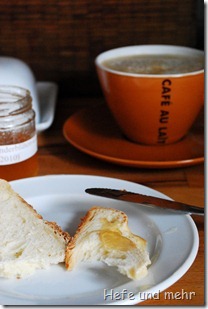 I like Braids – the one made of dough, my hair is to short for braiding

– and you can see this in my blog, too. I bake already a six strand braid, the fluffy Egg-Bread, Challahs  with and without Lactose or flavoured with orange liquor , and  a zopf filled with nuts.
A slice of fluffy soft Zopf with some homemade marmelade and a big cup of café au lait – is there a better way to start a sunday morning?
For some days there was an idea floating through my brain of a braided bread made with curd. And last weekend I finally put this idea into practice and baked a two stranded braid. Like in most of my Braid-Recipes I used a Pâte Fermentée, because this adds aroma and structure to the bread. And the curd adds a slightly sure taste and makes the crumb niecly soft.