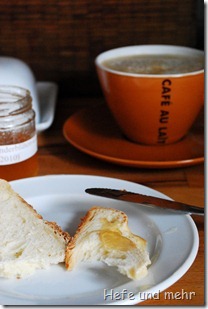 I like Braids – the one made of dough, my hair is to short for braiding

– and you can see this in my blog, too. I bake already a six strand braid, the fluffy Egg-Bread, Challahs  with and without Lactose or flavoured with orange liquor , and  a zopf filled with nuts.
A slice of fluffy soft Zopf with some homemade marmelade and a big cup of café au lait – is there a better way to start a sunday morning?
For some days there was an idea floating through my brain of a braided bread made with curd. And last weekend I finally put this idea into practice and baked a two stranded braid. Like in most of my Braid-Recipes I used a Pâte Fermentée, because this adds aroma and structure to the bread. And the curd adds a slightly sure taste and makes the crumb niecly soft.
Curd-Braid
Pâte fermentée
160 g flour (Type 550)
90 g water
1g fresh yeast
2 g Salt
Dough
whole Pâte fermentée
500g  flour (Type 550)
125g curd
200 g Water
1 big egg  (65g)
75g sugar
50g Butter
10g fresh yeast
5g Salt
Glazing
Mix all ingredients for the Pâte fermente and ferment for 1 hour at room temperature. Then put the dough into the fridge for 12 hours.
Dissolve the yeast in water, then knead in the kitchen machine with curd, eggs, salt, flour and Pâte fermente for 5 min at slow speed.
Now knead 7 min at middle speed. Because the sugar inhibits the gluten development, the sugar is added just now. Add always a tablespoon at once and knead in between always for 1 min. At last add the butter all at onc and knead untill the butter is completly incooperated.
Ferment for one hour.
Divide the dough into 2 pieces, roll them into strands and braid it. Brush lightly with beated egg and proof for 1,5 hours.
After proofing brush again with egg. Bake at 175°C for about 40 min with steam.