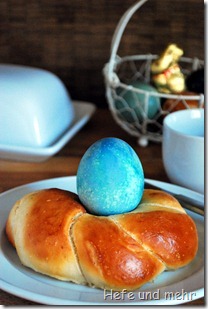 I did not only bake something for Breakfast at Good Friday, I also wanted to have something nice for our Easter Breakfast, of course. And so I decided to bake little nest of sweet yeasted dough this year. In the past I filled them with a hard boilde egg before baking, but the natural dyes seem to loose their colour when baking in the oven. 'That's why I make the nest a little bit bigger,  and place the egg in the middle of the nest after baking.
The dough is made with sour cream, which adds a nice taste to the bread and makes the crumb fluffy. To make the baking day more relaxed I decided to let the dough rise in the fridge, the cold and long fermentation together with the Pâte fermentée adds a complex taste to the bread.
I liked the taste of this little easter nests very much and I am sure that soon I will try this dough for sweet buns, too.
Little Easter Nests
Pâte fermentée
160 g flour (Type 550)
90 g water
1g fresh yeast
2 g Salt
Dough
all of the Pâte fermentée
500g  flour (Type 550)
200g sour cream
100 g Water
1 big egg  (60g)
75g sugar
50g Butter
10g fresh yeast
5g Salt
Glazing
Mix all ingredients for the Pâte fermentée and ferment for 1 hour at room temperature. Then put the dough into the fridge for 12 hours.
Dissolve the yeast in water, then knead in the kitchen machine with curd, eggs, salt, flour and Pâte fermentée for 5 min at slow speed.
Now knead 7 min at middle speed. Because the sugar inhibits the gluten development, the sugar is added just now. Add always a tablespoon at once and knead in between always for 1 min. At last add the butter all at once and knead until the butter is completely incooperated.
Ferment over night in the fridge.
Divide the dough into pieces of 120g each. Roll each piece into a strand of 45cm and twist the strand with itself. Place the two ends overlapping to form a ring.
Place on two paper lined baking trays and proof for 2 hours. Glaze with lightly beaten egg prior to baking.
Bake for 15 min at 200°C on convection mode.
After Baking you can place an egg in the middle of the nest.
I send this entry to yeastspotting, Susans weekly showcase of yeasted baked good.