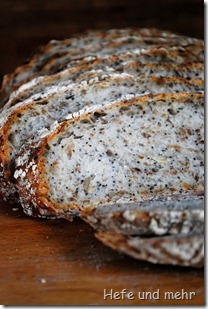 It seems like I would spent each wake moment in the lab. I try not to spent the nights there, but I start very early in the morning and at the moment I work very often one day of the weekend, too. There is a silver line on the horizon, promising that I will finish the missing experiments very soon and that we can resubmit our paper in near future. For me this means although a well deserved vacation!
Due to the enormous amount of work I have less time for Blogging. I still bake bread, take pictures and write down new recipes, but to put everything together as a post is not so easy at the moment.
When baking at the moment I use recipes that need not so much time each day. My favourites are those recipes that requires proofing over night.
This light sourdough bread is such a recipe. It taste very nutty because of roasted rolled grains and seeds, it is very fluffy and soft and it has a deep complex taste due to the two preferments and the long, cold proof.
Light Sourdoughbread with roasted grains and seeds
Sourdough
200g flour Type 550
140g Water
75g sourdough
200g flour Type 550
140g water
1g fresh yeast
4g Salt
Soaker
150g Mixture of rolled grains (Oats, spelt, wheat, barley)
30g Sesame
30g flax seeds
30g poppy seeds
70g sunflower seeds
400g boiling water
Dough
sourdough
pâte fermentée
soaker
400g Water
600g flour type 550
20g Salt
Morning: Mix water, flour and starter for the sourdoug and ferment it  for8 hours at 25°C. Roast seeds and grains until golden, then soak them with boiling water.
Evening:Mix all ingredients for the dough. Let it rest for 30 min, then fold it from the outside of bowl into the middle for three or four times. Let rest for 30 min again, then fold the dough and repeat the resting and folding steps one time more. Ferment the dough 1 hour at room temperature.
Shape the dough into two oval loaves and proof overnight in well floured breadforms in the fridge.
The next morning: Heat the baking stone at 250°C for one hour.
Slash the loaves directly before baking.Bake for 40 min at 250°C with steam on a hot stone.
I send this bread to Susans Yeastspotting, a weekly showcase of yeast baked goods