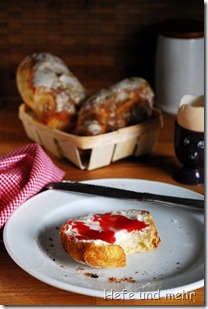 I don't like it when I have left overs in the fridge. They tend to grow old and after some days I will throw them away. And I don't like to throw away food! Normally I plan our meals so that we eat everything or that the left overs are enough to be packed as lunch at work on the next day. But this saturday there was some potatoes left. Nothing else, only potatoes. And we had a invitation for Lunch the next day, so cooking something with something with them was out of question.
I inspected the fridge and found following things: Some Pâte fermentée, made because I wanted to bake something but without any recipe in mind, a cup of buttermilk and as I told before, potatoes. Looking on these things I had a Idea at last: I would bake some nice rolls for breakfast on Sunday.
I mashed the potatoes and mixed it with some buttermilk and Pâte fermentée and flour. Instead of kneading I go back to the folding technique I used for my last rolls, too. After the gluten network was nicely developed I let the dough rise on the counter. The small amount of yeast makes this possible. The next morning the dough felt fluffy and velvety soft. I formed rolls like would form small ciabatta, cutting pieces of dough and pulling them carefully in shape.
The rolls have a rustic look because they develope a nice dark golden crust under a lot of flour. The crumb is soft and they have a complex taste due to the buttermilk, the preferment and the long and slow rise. A great way to use leftover potatoes!
Potatoe Buttermilk Rolls
Pâte Fermentée
150g flour Type 550
105g Water
1g fresh yeast
1g Salt
Dough
250g boiled potatoes
250g flour Type 550
250g Buttermilk
1g fresh yeast
10g Salt
Morning: Mix all ingredients for the pâte fermentée and knead for 3 min, then ferment it for 1 hour at room temperature. Then put the dough into the fridge for  at least 12 hours.
Evening: Dissolve the yeast in buttermilk, mash the potatoes and add both to the other ingredients in a big bowl (about 5l). Mix all ingredients for the dough and let it rest for 30 min, then fold it from the outside of bowl into the middle for three or four times. Let rest for 30 min again, then fold the dough and repeat the resting and folding steps one time more. Ferment the dough overnight (8 – 10 hours) at room temperature.
The next morning: Heat the oven with the baking stone to 250°C.
In the meantime roll the dough on a well floured  surface to rectangle with a length of 40cm x 60 cm. Fold from left and right to the middle, then from top and bottom so that the resulting square has a length of 30cm x 20 cm. Sprinkle the top generous with flour. Cut into 12 squares and pull each square gently to a rectangle shape. Proof for 40 min.
Bake at 250°C for 15 min with steam. Open the oven door after 10 min to release the steam to get a crispy crust.
. I send this bread to Susans Yeastspotting, a weekly showcase of yeast baked goods