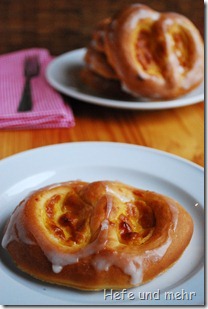 Pudding pretzels or Pudding pastry are one of the best pastries you can buy in the bakery. They are so delicious that I even ignore that the boyfriend calls them "Eiterbrille" (that means pus-filled goggles). I know this term for them is common in the Rhineland but I don't like it.
The pudding pretzels you can buy are made with danish pastry dough but when I made them last weekend I decided to use a simple challah dough instead. That saves some time and a lot of calories!
I filled the both of the loops of the pretzels with pastry cream and they bake very well. All of my fears of melting fillings that flood the oven did not hold true. I would have liked it if the filling melt a little bit at last so that the surface of the pudding would be more even. But it stays as rough as it was when I filled it in. Next time I have to take care to smoothen the surface!
Very delicious little treats even in the fat reduced variation! Something I will bake more often!
After they passed the "Bread box test" I send this little pretzels to Palmira who hosted BreadBakingDay this month. She choose "Bread for a picnic" as theme and these little fellows would be great sweet treat for any kind of picnic.
Pudding pretzel
Pâte fermentée:
90g flour (Type 550)
60g Water
1g fresh yeast
1g Salt
Dough:
150g Pâte Fermentée
250g flour (Type 550)
75g egg(1.5 eggs)
55g water
40g oil
5g fresh yeast
2g Salt
30g sugar
Pastry cream:
400g milk
80g egg yolks (of 4 eggs)
80g sugar
30g starch
1 vanilla bean
50g Butter
Mix all ingredients for the Pâte fermentée and proof it for 1 hour at room temperature. Then put the dough into the fridge for 12 hours.
Dissolve the yeast in water, then knead in the kitchen machine with eggs, oil, salt, flour and Pâte fermentée for 5 min at slow speed.
The knead 7 min at middle speed. Because the sugar inhibits the gluten development, the sugar is added just now. Add always a tablespoon at once and knead in between always for 1 min.
Proof for one hour.
Now prepare the pastry cream: Bring Milk with the pulp of a vanilla bean to boil, in the meantime mix egg yolks, starch and sugar, then add 2 tablespoons hot milk. Now stir the mixture in the boiling milk and continue stirring until the mixture thickens. Remove from heat and stir in the butter. Fill the pastry cream in a bowl and cover the surface with cling film.
Divide the dough in pieces of 40g each. Roll each piece into a strand of 50 cm and form a loop. Twist the ends around each other for four times, then lay them under the middle part of the loop to form a pretzel.
Place the pretzels on a paper lined baking tray and proof for one hour. Now fill both loops with pastry cream and smoothen the surface a little bit.
Bake at 175°C for about 20 min.