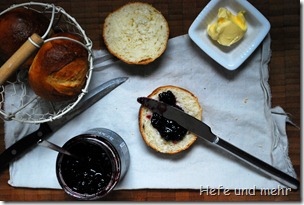 Since I baked the Yoghurt Sesame Rolls the first time I think about how to change the recipe so that the overnight method would work for sweet rolls, too. Normally I add some eggs to my sweet rolls dough, but to keep a dough with egg overnight at room temperature was too risky in my eyes. And so I decided to try a modified sweet roll recipe using buttermilk. Buttermilk is rich on lecithin same as egg yolks which is positive for the dough development.
Folding the dough develops the gluten network nicely and makes the crumb fluffy and soft. The crust is soft, too like a good sweet roll should be. The rolls gain flavour due to the long fermentation even without adding a preferment and the rather low hydration makes them easy to shape so that this recipe is ideal for beginners in bread baking.
Sweet Buttermilk Rolls
Dough
400g flour Type 550
50g Butter
260g Buttermilk
65g sugar
3g Salt
3g fresh yeast
Glazing
At the evening dissolve yeast in buttermilk, then add the mixture to the other ingredients in a big bowl. Mix everything together to a bowl. Let it rest for 30 min. Now fold the dough from the sides of the bowl into the middle. Let the dough rest for another 30 min.
Repeat the folding for another 2 times, then let the dough rise overnight (8-10 hours) at roomtemperature.
The next morning divide the dough into pieces of about 80g and form them to bowls. Place them on a paper lined baking Tray and proof for one hour.
Before Baking glaze with egg and cut lengthwise.
Bake at 200°C with steame for 15-20 min.