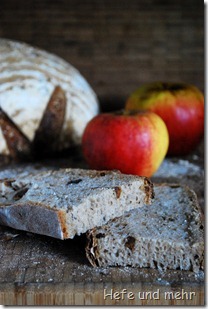 MC had the good idea to bake a local bread that contains ingredients which are an expression of the surrounding area. In my opinion this is a beautiful idea and especially in autumn there are a lot of local things that one could put in a bread to catch the essence of "Home".
I changed her recipe so it resembles my home: A rustic country loaf, with the apple juice made from windfall fruits(Streuobstwiesen with apple trees are very typical here), hazelnuts and summer flower honey from a local bee keeper.
The apples I use are from an old apple tree in my parents garden. My grandparents planted about 50 years ago when they build the house. I love this tree. When I was small I often sat in the crown of this apple tree feeling safe and sheltered there. Later a nearly level branch became my "horse" with reins and stirrups made of rope. I spent many hours "riding" during dream worlds.
Nowadays I value the tree because of the apples, too. They are delicious, perfect for cakes and compote – and when the autumn is very warm like this year, they get a perfect beautiful red hue.
The bread I made with the apple juice is very tasty, with a regular crumb and a thick aromatic crust. The taste of the apples is weak, but noticeable and the honey round the flavour nicely off. It taste like autumn and in my opinion like home, too.
Apple Hazelnut Bread
Sourdough
200g flourType 550
200g Water
20g Sourdough Starter
Dough
Sourdough
1060g flour Type 550
120g rye freshly milled
120g wheat, freshly milled
450g Water
400g freshly press apple juice
40g Honey
28g Salt
200g Hazelnuts, roasted and coarsely chopped
Mix water, flour and starter for the sourdough and ferment it overnight (about 12 hours).
Mix flours, water, sourdough, honey, apple juice, salt and water and let rest for 45 min (Autolysis). Then knead it for about 3 min at low speed, then 6 min on high speed until medium gluten development. Now add the nuts and knead for another 2 min
Ferment for 2 hours.
Form two breads and place them in brotforms with the seam side up.
Proof for overnight in the fridge.
In the meantime heat the baking stone at 250°C.
Slash breads prior baking.
Bake the breads for 45min with steam.
I send this entry to yeastspotting, Susans weekly showcase of yeast baked goods.