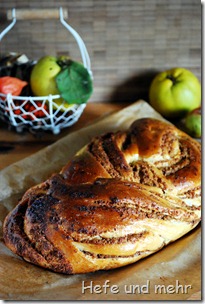 Its nearly two weeks ago that I posted a recipe! At the moment my work is once again consuming most of my time, but hopefully this part of my Ph.d. thesis will be finished successfully in soon future. I will tell you more about it then.
The bad thing with stressful days is that it makes me always susceptible for colds. After I had a really bad at the beginning of October the second cold for this month sent me last week straight to my bed again. I drank a lot of tea, eats a lot of vitamins and now the fever is gone. I am just still very hoarse and coughing badly.
But I am fit enough once again for reading blogs and for baking. Paule baked Quitten-Schuedi this weekend, a cake with yeast dough and quince sauce. I liked the Idea of using some of last years quince sauce I had still in the freezer. I need new space to freeze my share of quince from my parents garden that at the moment is still waiting in a small laundry basket in my kitchen.
And so I changed my plans for baking of a Nusszopf and made a the filling with quince sauce, roasted almonds and bread crumbs. I seasoned the filling with my favorite quince spice: Vanilla and add some lemon juice to make the taste round. I like this braid very much: fluffy crumb, sweet and fruity filling, hinds of vanilla and almond. Very delicious!
Quince-Almond-Braid
Pâte fermentée
210 g flour Type 550
145 g Water
1g fresh yeast
4g Salt
dough
360 g flour Type 550
120 g water
80g oil
9 g fresh yeast
7g Salt
Pâte fermentée
3 egg yolks (60g)
75 g sugar
Filling
400g Quince sauce (like apple sauce, just made with quince)
200g Almonds
100g Breadcrumbs
200g Sugar
1 Egg
Pulp of 1 Vanilla bean
2 Tbs. lemon juice
Glazing
Mix all ingredients for the Pâte fermentée and proof it for 1 hour at room temperature. Place the dough in the fridge for 12 hours.
Dissolve the yeast in water, then knead in the kitchen machine with eggs, oil, salt, flour and Pâte fermentée for 5 min at slow speed.
Knead 7 min at high speed. Because the sugar inhibits the gluten development, the sugar is added just now. Add always a tablespoon at once and knead in between always for 1 min.
Ferment for one hour.
While dough is fermenting prepare the filling: Roast the almonds and ground them finely, then mix all ingredients for the filling together.
Roll the dough to a rectangle of 30 cm x 60 cm, and spread the filling on it. Roll into a log and cut in half.
Place each log on a tray covered with baking paper, then use a scissor to cut it lengthwise, so you got two strands. Twist both strands around each other and proof the Braids for 1.5 hours or overnight in fridge
Preheat the oven to 180°C and bake for 35 min on convection mode until golden.
Bring the quince jelly to cook and glaze the braids with quince jelly.
I send this entry to yeastspotting, Susans weekly showcase of yeast baked goods