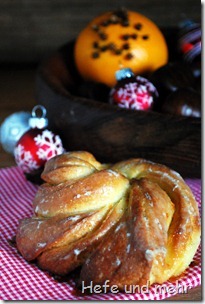 Of course I did not only make a variation of Martins recipe, I although baked the dough with the orginale Orangefilling. I used the same dough as for the Saffron Stars,  again with reduced sugar amount. The Orange swirls are sweet enough with all the sugar in the filling.
The advantages of the long and slowly proofing over night I explained already at the Saffron-Star post, and so I will only speak how great the Orange swirls taste. They taste very intense of Orange, with hints of saffron and caramel. Maybe the saffron is not necessary in this recipe because the orange aroma is the central taste of this sweet pastry.
In my eyes you can eat it all the time: you can eat it as breakfast, as a snack with a cup of coffee, as lunch, as dinner…
Yes, I like this orange swirls very much!
Orange Swirls
yields about 10 swirls
Saffron mixture
1 Bag Saffron threads (0,125g)
10g sugar
10g hot Water
Dough
Saffron mixture
125g Water
125g Milk
450g flour Type 550
3g Salt
1g fresh yeast
75g Butter
40g sugar
Filling
100g Butter
75g Sugar
finely grated orange zests of 1 Orange
Glazing
50g sugar
35g Water
1/2 Vanilla bean
Grind the saffron with some sugar in a mortar, then add hot Water to the sugar-saffron mixture. Dissolve the yeast in milk. Add water, milk, saffron mixture flour and salt into a bowl and knead for 5 min at slow speed, then another 7 min at high speed . Because the sugar inhibits the gluten development, sugar is added just now. Add always a tablespoon at once and knead in between always for 1 min. At last add the butter all at once and knead until the butter is completely incooperated.
Ferment for two hours.
In the meantime prepare the filling: Cream butter, sugar, flour and finely grated orange zest.
Roll the dough to a square of 30 cm x 60 cms , spread one half with the filling and fold the other half over it. Cut int0 10 stripes of 3 cm x 30 cm. Twist each stripe, them wind it about two times around index finger and middle finger, then fold the loose end over the swirl.
Place the swirls on a paper lined tray, cover it with plastic foil (I used a clean plastic bag) and let them proof over night (about 8 hours).
The next morning bake at 220°C for about 15-17 min with steam.
For the Glaze bring water, pulp of the vanilla bean and sugar to boil and boil until the sugar syrup form threads when it drops from the spoon. Brush the still hot stars thinly with the syrup.