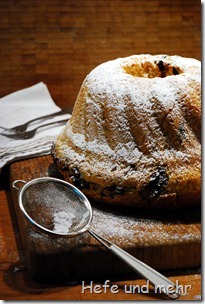 It is done! Not my Ph.D. Thesis – I am still working on that – but the Paper to my side project is published. When I am thinking that this was "only" my side project, its amazing how often it played the chief part in the last  two years . After some rejections is finally accepted and now I can use all of my energy to finish my main project. When everything works as planned I will end the experimental part of my thesis end of this month and will start writing. That is the plan I have at monent … we will see what will happen. Life in lab is never easy to plan…
Of course we had to celebrate the publication with the colleagues, with some sparkling wine and cake. My boss volunteered to buy sparling wine and orange juice, and I baked the cake.
I was very hard-hearted and ignored my colleagues begging for pandoro. I bake this cake if I publish something in "Nature" ;-), I promise! I baked a fluffy chocolate gugelhupf (Kugelhopf) and nut triangles instead. I baked the Gugelhupf with sourdough raised at  28°C which has a mild yoghurt-like taste and a water roux which makes the dough very soft. The high amount of butter and egg makes the cake very rich and creates a soft and fluffy light crumb. Seasoned with vanilla and filled with chocolate pieces make the Gugelhupf to a culinary delight.
It fits to January Bread Baking Day. BBD has the theme "a place you want to visit" and I planned to visit Alsace for a long time, since one of my great-grandmother was Alsatian!
Just because it feels so great to have the paper published:

And now the recipe:
Chocolate Gugelhupf
Sourdough
50g Sourdough Starter
100g flour Type 550
50g Water
Preferment 1
100g flour Type 550
70g Water
Sourdough
20g sugar
Preferment 2
100g Flour Type 550
70g Water
20g fresh yeast
20g sugar
30g flour Type 550
150g Water
Dough
Preferment 1
Preferment 2
Water roux
750g Flour Type 550
300g Egg (6 eggs size M)
2 Vanilla beans
10g Salt
150g sugar
300g Butter
250g semi sweet chocolate (chopped)
250g milk chocolate (chopped)
Sourdough: Mix all ingredients to form a homogenous dough. Ferment overnight (about 10 hours) at 28°C.
For the water roux whisk water and flour until lump free, then heat it up to 65°C (needs about 3 min) while whisking. Fill the water roux in a bowl, cover its surface with cling foil and let it cool down to room temperature.
Preferment 1: Mix the sourdough and the other ingredients for the preferment 1 to form a homogenous dough and ferment for 3 hours at 30°C.
Preferment 2: Mix all ingredients and ferment it for 30 min at 30°C.
Final dough:  In a stand mixer mix the preferments and water roux with flour, salt, seeds of the vanilla beans  and egg and knead for 5 min at slow speed, then another 11 min until full gluten development.
Now turn the mixer to slow speed then add 50g sugar, knead for another minute, then add the next third of the sugar, knead again for a minute, add the remaining 50g sugar and knead for another minute. Now  add the butter all at one and knead until full incorporated.
Ferment for 2 hours, fold the dough one time in between.
Divide the dough in 3 parts. Roll each dough piece to a  long band, brush the surface slightly with water and sprinkle each band with 1/3 of the chocolate. Roll into a log and the flatten the log again into a band with the length of the circumference of the gugelhupf pan. Roll again in a thigh log from the longside
Butter three gugelhupf pans and place the dough in the pans .
Proof for 2 hours at 30°C until the dough double its size.
Bake at 175°C for 45 min with steam.
I send this entry to yeastspotting, Susans weekly showcase of yeast baked good, too