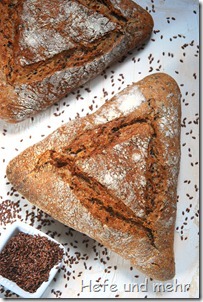 Last weekend I thought about trying another shape for my loaves then the normal round boules or slender batards. I felt that it was time to bring some geometry in my kitchen and try to shape some triangles.
That the dough should contain 30% whole wheat flour, flax seeds and a poolish I had already decided the night before. A not to wet dough, perfect to test a new shape.
To shape the triangle, I preshape round loaves, let them rest for some time and then I flatten their sides and fold this "wings to the middle of the bread. That created a bread with the perfect triangle shape.
And the taste of the triangle is good, too. The flaxseeds adds a nutty flavor and the poolish give some complexity to the aroma of the bread. The crust is crisp and the crumb is open. A good bread for my lunch breaks!
Leinsaat-Ecke
yields 3 Breads of 600g each
Poolish
200g flour Type 550
200g Water
1g fresh yeast
Soaker
150g Flax seeds
200g boiling Water
Dough
Poolish
Soaker
350g wheat, freshly milled
450g flour Type 550
450g Water
10g fresh yeast
20g Salt
Mix water, flour and yeast for the poolish and ferment it overnight (about 12 hours).
At the next morning soak the Flax seeds in boiling water and let the soaker cool down to roomtemperature (about 1 hour)
Mix all ingredients except the soaker for the dough  and knead it for about 5 min at low speed, then 8 min on high speed until medium gluten development. Turn back to low speed and knead the soaker into the dough.
Ferment for 1 hours.
Divide the bread into 3 pieces and preform the dough to a balls. Let it rest for 15 – 20 min. Now flatten the sides of the ball, forming a higher triangle in the middle with "wings" attached to the triangle. Fold the "wings" into the middleso that a triangle is formed. Shape the edges of the triangle to sharp points. Then turn the loaves seamside down. (Here is a little How to.. with pictures)
Proof for 1 hour.
In the meantime heat the baking stone at 250°C.
Slash three times, then bake the breads for 35 min with steam.
I sent this entry to Yeastspotting, Susans weekly showcase of yeast baked good.