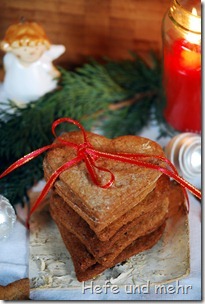 Is everyone still here? Or  did the apocalypse happened somewhere?
In our little corner of the world the "weather precast for the apocalypse" did not come true (luckily). It is good that I bought my christmas presents already, now I will need them

!
With 4°C and a lot of mist this day should be spend on the couch, snuggeled in a warm plaid with a cup of tea and some cookies. On my cookie plate I have some old friends as well as some new. A new recipe besides the Hazelnut Bars and Allspice hats is the recipe for swedian Pepparkakaor
This delicious recipe I found on My Italian Smörgåsbord and I had to try it. It is packed with nuts, spices, malt and honey and they are very delicious. The next time would just exchange the coconut with some hazelnuts, then they will be perfect for me!
Pepparkakor
105g flour Type 550
50g oat flour(milled from rolled oats)
15g almonds, finely grounded
15g cocos, finely grounded
30g Walnuts, finely grounded
1 Tsp honey
1 Tsp Malt
60g raw sugar
1 Tsp ginger, finely grounded
1 Tso cinnamon
1/2 Tsp cloves,finely grounded
1 Tsp cardamom
50g Butter
50g coffee
3g Potash or Soda
Mix together all ingredients together and let the dough rest at least overnight (longer is better). Roll the dough as thin as possible, then use a cookie cutter to cut out hearts. Bake at 180°C for 11-12 min.