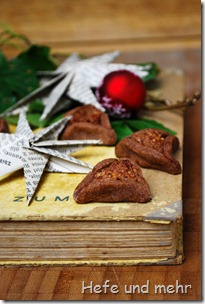 There was a delicious looking recipe in the christmas cookie edition of the magazine "Brigitte". I do not read this magazine, but I like their cookie recipes and so I was very happy that you can download their recipes as well. The recipe I fell in love with was a Spritzgebäck seasoned with cacao and allspice. I mixed the dough and tried to pipe some cookies. But then I had to realize that I either need a stronger piping bag or that the dough was to dry. And so I put the dough in the fridge and started to rethink the plan. And after half an hour the dough had the perfect consistence for rolling and I had a new plan.
And so I rolled the dough, cut out circle, filled them with a hazelnut and quince jelly filling and folded the sides of the cookie so they formed little triangles. The mixture of allspice, quince and hazelnut fits together very nicely. So I'm not longer disappointed over the original recipe but very happy with my variation of the recipe.
Piment-Hütchen mit Quitten-Nuss-Füllung
Dough
100g Butter
150g powdered sugar
200g flour type 405
1 Egg
1 Pinch Salt
1 vanilla,
20g cacao powder
0,5g allspiece
Filling
150g hazelnuts
150g quince jelly
Knead flour with sugar, egg yolk, vanilla sugar and butter. Rest the dough for 30 min in the fridge.
For the Filling warm quince jelly and mix it with ground hazelnuts.
Roll the dough to a plate with a thickness of 3 mm. Cut out circles with a diameter of 5 cm. Place a little bit filling on each center of the circle and fold the sides over the filling, forming an triangle.
Bake at 175°C for 15 min.