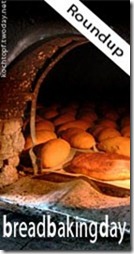 When I announced BBD#54, I was so curios about the "Overnight"-Recipes. But then I had to wait … more or less patiently. It is so strange – I have a lot of patient when it  comes to bread baking – mixing a starter, let it develop, mix the dough, let it rise (probably overnight), baking it and then wait until the bread is cooled before slicing, that needs a lot of patiently waiting. But when I'm waiting for something to happen, like for the results of some very fascinating experiments in the lab or waiting for the entries for BBD, it is so hard to lean back and relax.
And so I'm very happy and exited that I can present you now all this great breads and rolls! We have sixteen entries from Thailand /Holland, Germany, Belgium, Canada, Sweden, Italy, Brazil, Spain, USA and Austria.
I tried to leave a comment at each post, but at one or two it was not possible because I lack the right type of account. So let me tell you here again that you all did a great job and that I enjoyed hosting this Bread Baking Day very much! The next BBD is hosted by Katha from Katha-kocht! and she will announce the theme at 6.December.
And now enjoy all these great Breads!