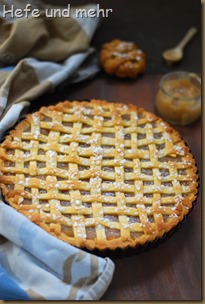 My  birthday last friday was the last real summer day with 32°C. Already one day later the temperature dropped to 20°C and it started to rain heavily. Hello Autumn! And so it was easy to decide for a cake for the birthday get together with the family. I baked the first apple cake of this season, a cake which is called Riemchenkuchen or Rhineland Applecake. It is a  childhood favourite, a yeast dough cake filled with apple sauce.
Since some days I was thinking about using a mixture of yeast dough and short pastry as a cake base. This combined the advantage of both doughs: a fluffy dough that stays fresh for a long time and which is very easy to handle. It is very easy to prepare this yeasted shortcrust pastry. You have to make a shortcrust pastry and yeasted dough and combine both doughs after the yeast dough has risen.
This worked perfectly for this cake. It looked so good that my dad really asked if I bought the cake… No, it is homemade and it taste just great!
Riemchenkuchen
Yeast dough
5g fresh yeast
70 g milk
55g Egg (1 Egg size L)
210g flour type 550
1 pinch Salt
20 g sugar
25g Butter
Shortcrust pastry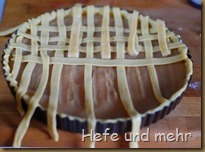 100g flour type 550
65g Butter
30g sugar
Filling:
Topping:
Yeast dough: Dissolve yeast in milk and mix with egg, flour, salt and spices 5 min with hand. Now add half of the sugar, knead for 1 min, add the remaining sugar, knead again 1 min. Then add all of the butter and knead until well incooperated. Let rise for 1 hour.
Shortcrust pastry: Knead all ingredients until a crumbly dough has formed. Chill  for 30 min.
Combine both dough and knead until a homogenous dough has formed. Roll 2/3 of the dough into a thin plate and line a greases tart form with a diameter with 26 cm.  Fill with apple sauce. Roll the remaining dough and cut into stripes of 1 cm width and about 26 cm length.  Use this stripes to form a lattice over the apple sauce.
Proof for one hour.
Glaze the dough with some water and top with pearl sugar.
Bake at 175°C for about 40 min.