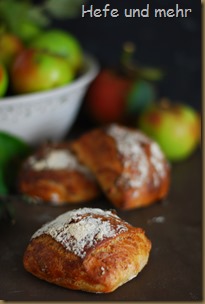 And here is already the second recipe for freshly baked breakfast rolls. They need – similar to the last recipe – only a short time in the morning until they are ready to bake, but need a little bit more attention the evening before when the dough is prepared. The apple has to be peeled and cut, the soaker has to be made and the nuts hast to be roasted and cut. But the rolls are worth the effort! They are slightly sweet due to honey and apple with the deep flavour of roasted nuts and hazelnut oil, combined with the complex flavour of the long, slow rise over night.
That I soaked the apple pieces together with the rolled oats in boiling water was done by purpose. The apple I use is from an old variety (presumably Jakob Lebel) and turn brownish as soon as you cut them. This change in colour is due to the reaction of an Enzyme in the cells which are demaged by cutting the fruit. To scald the apples with boiling water denatures the enzymes and turns them inactive, so the apple pieces will not turn brown.
Apfel-Haselnuss-Brötchen
yields 14  Rolls
Soaker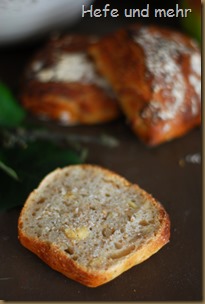 75g rolled oats or wheat
110g Apple, chopped (1 small Apple)
150g boiling Water
Dough
Soaker
500g flour Type 550
130g Water
30g hazelnut oil
65g Honey
10g Salt
2g fresh yeast
100g Hazelnuts
Prepare the soaker: Peel the apple, chop it into small pieces and mix with rolled oats/wheat and boiling water. Rest for 30 min.
In the the meantime roast the hazelnuts until golden, then remove their skin by rubbing them in a tea towel and cut all in half.
Put flour, soaker, water, oil honey and yeast in the bowl of the kitchen machine and knead for 5 min at slow speed and 8 minutes at high speed. The dough should be soft but not sticky. Now add the hazelnuts and knead for another minute. Place the dough on the counter, flatten it and fold it from the sides into the middle, so that it forms a square parcel. Place it upside down in a oiled container and proof at room temperature for about 10 – 12 hours.
The next morning heat the oven to 250°C.
In the meantime transfer the dough on a floured counter and flatten it carefully to 2 cm thickness. Use a dough scrapper to cut it into 10 regular pieces.
Transfer to a paper lined baking tray and proof for 15 min.
Put the tray  with the rolls in the oven, throw a handful of ice cubes on the bottom of the oven and bake for 15 min on 250°C. Then open the oven a jar and switch to convection mode. Bake another 10 min on convection mode for a crisp crust.