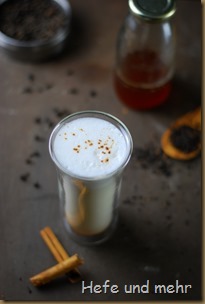 Who still needs a present for Christmas has to hurry up now. A delicious last minute present for people with a sweet tooth is this Chai Syrup. And with a flask of Chai Syrup the next Chai Latte is just a question of warm (maybe frothed) milk.
For the syrup you just need some black tea, some spices, water and sugar and ten minutes time. And then you can fill your syrup into glasses or flasks and wrap them up for Christmas. Or you keep a flask for your one…
Chai Syrup
for 2 Flasks of 200ml each
2 Tsp black tea (Asam)
1 star arnis
1 cinnamon stick
15 cloves
1 Tsp cardamom seeds
5 pepper corns
5 allspice seeds
1 piece Macis
2 cm ginger
1 Tsp orange zests
400g Water
200g sugar
Bring water with tea and spices to boil and let it simmer for about 10 min. Pour through a tee strainer, then mix the spiced tea with sugar and bring to boil once again. Fill in clean flasks or glasses. The syrup keeps well at least for 3 month when stored in the fridge.
For a Chai Latte mix 2-4 Teaspoons with a cup of hot milk.