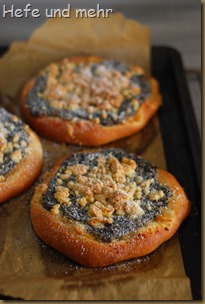 Before I decided to bake a nut cake for a spontaneous family meeting last saturday I planned to bake poppy seed pastry later the same day. I already mixed my sweet starter for the dough. But seeing my sisters family and my parents were more important and so I placed the well risen starter in the fridge instead.
The next morning I checked the starter and it smelled and tasted terrific with a complex but mild flavour. And so I decided that I would use it as I would use a Pâte Fermentée. It added a good flavour to the dough, and together with some yeast it helps to give the dough a good oven spring. And with a soft poppy seed filling and some applesauce and crunchy streusel it is a delicious Sunday afternoon treat.
Poppy seed Pastries
Sweet Starter
Dough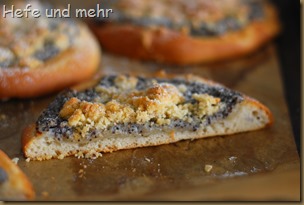 Sweet Starter
330g flour Type 550
220g Milk
8g fresh yeast
8g Salt
30g sugar
80g Butter
Appel filling
Poppy seed filling
500g Milk
75g semolina
75g poppy seeds, grounded
75g sugar
1/2 lemon, juice and zests
Streusel
70g sugar
70g Butter
100g flour
30g grounded almonds
1 pinch Fleur de Sel
Mix all ingredients for the Sweet starter and let it rise for 3 hours at 30°C then place the bowl overnight in the fridge.
Knead all ingredients for the dough except the butter for 10 min at slow speed. Now add the butter all at onc and knead untill the butter is completly incooperated.
Proof for one hour.
While dough is fermenting prepare the filling: Bring milk to boil and stir in the grounded poppy seeds, semolina and sugar. Stir the mixture until its starts to bubble. Now fold in the lemon juice and the lemon zests , then set aside to cool down.
For the Streusel mix all ingredients to a crumbly dough.
Now divide the yeast dough to pieces of 80g and shape them into balls. Let them rest shortly (5-10min) then flatten the balls to discs of 12 cm diameter. Place the disc on paper lined baking trays. Spread a tablespoon applesauce on the disc, then add a layer poppy seed filling. At least sprinkle with streusel.
Proof for one hour.
Preaheat the oven to 180°C and bake the pastry for 20 min on convection mode.