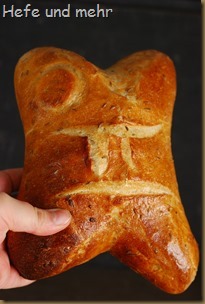 It is tradition in Attendorn, a small city in the Sauerland, that the pastor will issue a bless on the "Ostersemmel" (which means Easter bread) on Holy Saturday. It is a big event, that takes place in front of the church where the citizens of the Attendorn will hold their bread into the air. The Bread is forked on both ends, a shape that should depict the Christian symbol of a fish.
It is a bread made with rye, wheat and caraway seeds. My interpretation of the Ostersemmel is made with 30% Rye and Sourdough, and the recipe yields to breads. With a round cookie cutter I make an inprint for the eye, like I saw it in some pictures.
It is a perfect bread for caraway lovers like me, very aromatic with a soft crumb and a shiny crust.
Attendorner Ostersemmel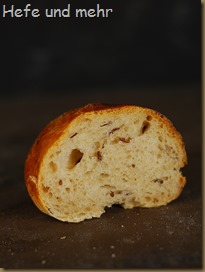 Sourdough
100g flour Type 550
50g rye flour Type 550
100g water
15g sourdoug
Soaker
100g Water
20g caraway seeds
Dough
Sourdough
Soaker
100g rye flour Type 1150
250g flour Type 550
100g Water
30g oil
10g Salt
5g frech yeast
Glaze
For the sourdough mix all ingredients and ferment for 12-16 hours at 25°C
For the Soaker bring Water to boil and mix it with the caraway seeds. Let stand until it cools down to roomtemperatur, at least 30 min.
Mix ingredients for the dough and knead it for about 5 min at low speed, then 8min on high speed until medium gluten development.
Ferment the dough for 60 min.
Divide the dough into two halves and form both to oval breads. Cut them lengthwise on both ends and draw the cuts to the sides, forming a X shape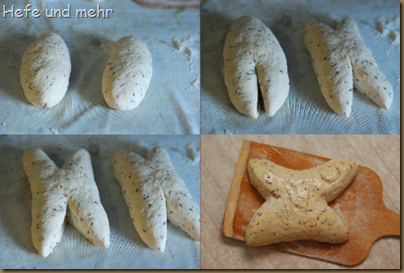 Proof for 1.5 hours. Heat the oven to 250°C in the meantime.
For the glaze cook starch with water and let cool to room temperatur
Before baking glaze the rolls and slash them. Bbake at 250°C for 25 min with steam. Glaze directly after baking for a perfect shiny crust.
I sent this entry to Yeastspotting, Susans weekly showcase of yeast baked good.