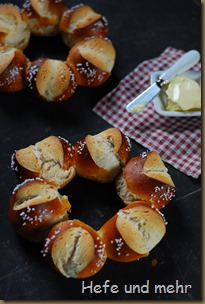 I nearly missed that Zorras Bread Baking Day waked from its hibernation and that there is indeed a theme for February! But luckily I stumbled over Announcement of Ina-Christin who is its hostess in this month. And because she loves pretzels as much as I do she wishes us to to bring pretzel variations. This makes it easy to come up with a recipe for her.
I baked a Silserkanz, a Swiss speciality of six pretzel rolls forming a crown. The dough is nearly the same as in my pretzel roll recipe, I just used some milk instead of water. And I believe that this change make the crumb even a little bit more fluffy then the old variant.
For a spontaneous baking the Silserkranz turned out well. The next time I would just cut the rolls a little bit deeper to avoid the uncontrolled cracks that formed in some of the rolls. But this is just a minor drawback and only disturb my inner perfectionist.  The rolls are delicious and a eye catcher on every table!
Silserkranz
yields 2 crowns
Sweet Starter
Dough
250g  flour Type 550
135g Water
20g Butter
10g Salt
5g Malzt (inactive)
5g fresh yeast
Lye
Topping
Mix the ingredients of the sweet starter and let it rise for 3-4 hours at 30°C.
Knead all ingredients for 10 min at slow speed.
Rest the dough for 30 min then divide the dough in 12 pieces of 65g each.
Roll each piece to a ball.
Proof for 30 min at room temperature and another 60 min in the fridge without a cover.
Dissolve the NaOH in  30°C warm water and dip the rolls in the lye, then take them out with a skimmer. Place on a paper lined baking tray, so that 6 rolls form one crown, with a little bit space between the rolls.  Sprinkle with coarse sea and slash lengthwise.
Bake at 230°C for 20 min. After 5 min open the oven door shortly to release the steam from the rolls.