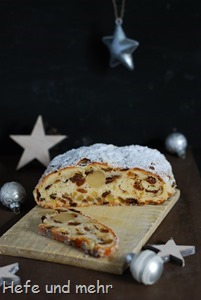 Last year I saw a Christstollen with Sourdough which "Ofenkante" published on his blog. This stirred my brain and I started to think about Stollen made with sweet starter. But as I was already done with Stollen baking at this time point, I stored the idea in the back of my mind. After one year of thinking about it I decided to bake directly two stollen for this Christmas: a traditional and a experimental one.
In the experimental stollen with sweet starter I kept the same ratio of ingredients then in my traditional one (never change a winning team) but build the the sweet starter over several steps to get a enough strength for rising. It is always amazing to see how strong the sweet starter gets when fed three times in a row! But as the feeding is time consuming, this recipe needs a day until it is done.
After four weeks of ripening I brought the stollen from the cold attic back to the warm kitchen and sliced it. The crumb was perfect, firm but moist and the different flavours had fused to a harmonic consonance. Compared to the traditional stollen there are subtle differences in flavour nuances, but it is hard to pin them down. After all, both of them taste terrific and I can not name a favourite.
Christstollen with sweet Starter
yields 2 Stollen of 800g
Soaker
300g raisin
100g almonds, chopped
30g rum
hot water
Water roux
30 g flour Type 550
150g milk
50g sweet Starter (refreshed the day before)
50g flour Type 550
25g Milk
Sweet Starter 1
125g flour Type 550
60g Milk
Dough 1
Water roux
Sweet Starter 2
300g flour Type 550
50g Butter
25g sugar
Dough 2
Dough 1
5g salt
0,5g of mace, cardamom, cinnamon
seeds of a half vanilla been
50g sugar
200g butter
50g candid orange peel
50g candid lemon peel
140g marzipan
Glazing
50g butter, melted
100g sugar
100g powdered sugar
The evening before: Mix almonds, raisins and rum in a bowl, then add boiling water until the fruit mixture is covered with water.
Sweet Starter 1: Mix all ingredients to form a homogenous dough. Ferment for 2-3 hours at 30°C.
Sweet Starter 2: Mix first dough with the other ingredients for the third dough and ferment it for 2-3 hours at 30°C.
Dough 1: Mix all ingredients to form a homogenous dough. Ferment for 2 hours at 30°C.
Dough 2: Cream butter with sugar and spices. Add the butter in small portions to the dough 1. Knead until  a homogenous dough forms, but be carful, the dough temperature should not become higher then 22°C.
Rest for 60 min in the fridge. In the meantime drain raisins in the meantime and chop the lemon and orange peels finely.
Knead the fruits in the dough. Knead just as long as you need to incorporate the fruits.
Heat the oven to 200°C.
Divide the dough and rest it shortly.
Half the marzipan and roll it to two 30 cm strands.
Form the dough into an oval loaf and flatten the middle with a rolling pin. Lay the marzipan in the middle and fold the dough over it.
Proof for 30 min.
Bake for 40 min.
Glaze with melted butter and sprinkle thickly with sugar. Let it cool overnight, then cover thickly with powdered sugar and wrap in aluminium foil. Store it at a cool place for at least one week (better two or more).