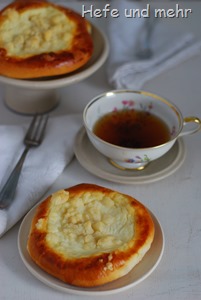 There is one wish still open for the Bread baking course: yeasted cake! And what would be a better idea to celebrate the seventh blog birthday of "Hefe und mehr" then to make little yeast pastries with a fluffy dough and delicious Quark filling? And as a bonus point this Quark-Streusel-Kolatschen are very variable as well. You can replace the Quarkfilling with a poppy seed filling or make them without quark but with an increased amount of streusel. It is a basic recipe that can changed to meet your own preferences.
When working with doughs containing much sugar and butter you have to take in account that they inhibit gluten development (as described here as well). Due to this fact they are added at the end of the kneading in small portions. And you can feel how the added sugar will change the consistency of the dough and becomes more soft and sticky when the sugar draws away water formerly bound in the dough.
Quark-Streusel-Kolatschen
yields 8 pastries
Dough
250g flour Type 550
150g Milk
3g Salt
5g fresh yeast
25g sugar
50g Butter
Filling
1 egg yolk (from 1 egg size L)
100g Quark
15g sugar
8g starch
35g sour cream
Streusel
50g flour Type 550
35g Butter
25g sugar
1 Pinch Salt
a bit of water when needed
Knead the dough consisting of  flour, milk, egg, yeast and  salt for 10 min by hand. The dough should be now soft, but not sticky. Now add the sugar in portions of 8g. After adding a portion knead until the sugar dissolve. Then add the next portion and knead again until all sugar is incooperated. Now add the butter and knead until well combined.
Let the dough rise for 1 hour.
In the meantime mix the ingredients for streusel, at the end you should have a crumbly dough.
Divide the dough into pieces of 55g. Shape into balls, then let them relax for 10 min. Flatten into disks with a thin middle and a thicker rim.
Mix the ingredients for the quark filling and place a tablespoon of the filling in each pastry and top with streusel.
Proof for 1 hour.
Bake at 200°C for 20 min with steam.