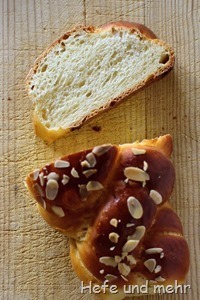 Some time ago I showed this braids already while they cooled down on sunday morning. I promised to post the recipe, if they turned out nicely – and they did! So here it is. It is mainly a "use leftovers" recipe as it contains a bit of left over quark and some sweet starter after refreshing. The Quark adds a nice moistness to the dough and enhances shelf live. But the special turn in this recipe is the tiny bit of rye flour I added. As I learned last year from the Onjeschwedde is a small dose of rye good to enhance the crumb structure to extra soft and pillowy.
Another point I love at weekends too is the fact that the recipe is great for proofing overníght in the fridge. So the next morning the only thing I had to do is placing the baking tray in the oven. Perfect for relaxed sundays!
Quark-Braid
yied three braids
Sweet Starter
Dough
Sweet Starter
740g flour Type 550
100g Rye flour Type 1150
350g Milk
200g Quark
100g Egg (2 eggs size M)
20g fresh yeast
10g Salt
125g sugar
80g Butter
Decoration
1 egg (beaten)
sliced almonds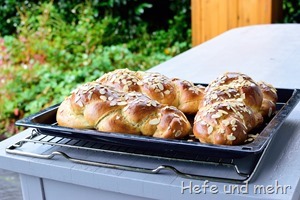 Mix the ingredients of the sweet starter and let it rise for 4 hours at 30°C.
Knead all ingredients except sugar and butter for 5 min at slow speed. Then knead 7 min at fast speed. Now add the sugar in small increments and knead until the sugar is incooperated before adding the next sugar. At last add the butter all at once. Knead to full gluten development.
Let rise overnight in the fridge or  for 90 min at room temperature
Divide the dough and roll it into 6 strands (each about 30 cm). Take always two and braid them like this.
Place on a baking tray and cover well.
Proof overnight in the fridge (alternativly 90 min at room temperature).
The next morning preheat the oven to 180°C. Brush the braids with egg and sprinkle with almond slices.
Bake at 180°C for about 40 min with steam.
Tip: If you want to use a biga instead of a sweet starter, mix 165 g flour Type 550, 80g water and 1g of fresh yeast. Let the biga ferment in the fridge for at least 16 hours.