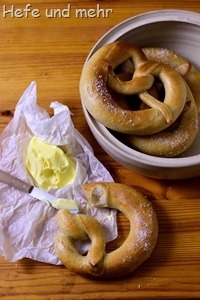 In Germany you can finde a lot of different kinds of pretzels. There is the lye pretzel, of course. But there are all kinds of "white" (aka not treated with lye) pretzels as well. There are sweet ones like the Martinsbrezel, the Burger Brezel and the Neujahrsbrezel, but there are hearty pretzels like the Anisbrezn as well.
Todays white pretzels stems from the little town called Biberach. It is said that once upon time there was a lazy baker's apprentice who forgot to prepare the lye. His Master Baker was very angry about his forgetfulness and tossed the pretzels in a pot with boiling salt water. And that turned out to be a brilliant idea. The so treated pretzels tasted deliciously and so these pretzels are baked during lent until today. Sounds like a real "happy ever after", doesn't it?
Biberacher Fastenbrezel
yields 9 pretzel
Pâte Fermentée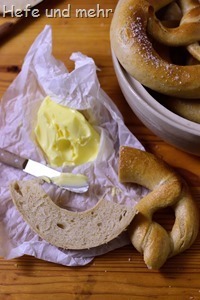 180g flour Type 550
130g Water
3g Salt
1g fresh yeast
Dough
320 g Flour Type 550
160g Water
15 g Butter
5g active Malt
7g Salt
9g Yeast
Mix the ingredients for the Pâte Fermentée and ferment it for at least 12 hours in the fridge (up to 48 hours).
The next morning: Mix all ingredients for the dough and knead it for about 5 min at low speed, then 8min on high speed.
Ferment the dough for one hour.
Divide the dough into pieces of 90g and form them to light balls. Rest them for 20 min.
Now roll the dough to a strand of 70 cm. The strand should be a bit thicker in the middle then at the ends. Form to a pretzel and place on baking linen.
Proof one hour on room temperature.
Bring salt water to boil and boil each pretzel for 30 seconds. Place on a baking tray lined with baking parchment.
Bake it at 250°C for 18 min.