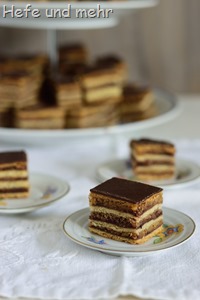 Sometimes questions of readers are timed just perfectly. So when Jasmin asked for a way to reduce yeast amount in my heirloom recipe of Greta-Garbo-Schnitten I told her I would try it right away, as I was planning to bake them for my upcoming birthday anyway. Baking Greta-Garbo-Schnitten has two advantages: They are a delicious favourite of mine and they taste best when baked a week in advance. And the second point goes well together with the fact that my birthday was at the end of a very busy week.
And I adjusted the recipe carefully. Reducing the yeast and adding a bit of sweet starter as preferment. As the recipe contains no big amount of liquid, adding a preferment was tricky. I had to reduce the amount of sour cream. Instead I used a bit of cream fraiche which higher amount of fat balances the reduced over all amount.
The recipe worked like a charm with this adjustments. And it is still one of the most delicious treats in the world!
Greta-Garbo-Schnitten
60g Sweet Starter
60g Four Type 550
30g Water
Dough
Sweet Starter
400g flour Type 550
200g Butter
2 eggs
20g fresh yeast
50g powdered sugar
40g cream fraiche
Filling
450g red currant jelly
250g Walnuts or other nuts
150g powdered sugar
Glazing
Knead the ingredients for the dough to a homogenous dough. Divide into four pieces and let them rest for 90 min.
Ground the nuts finely and mix with powdered sugar. Warm the currant jelly to make it smooth.
Roll the first piece of the dough to the size of the baking tray (about 30cm x 40 cm). Place it on the paper lined baking tray and spread 1/3 of the jelly on top. Sprinkle 1/3 of the nut-sugar mixture on it. Now roll the next piece, lay it on top and spread it again with 1/3 of the jelly and sprinkle 1/3 of the nut-sugar-mixture on top. Repeat it once again, then at the final layer of dough.
Proof for 60 min.
Bake at 175°C for 35 min until the surface is golden.
Let cool for 15 min, then turn the cake upside down with help of a second tray.
Let cool completely, then cover the top with coverture. When the coverture has hardened, cut the cake into small slices of 2cm x 4cm. Store in a tin box. The cake can be stored like this for 1 or 2 weeks.