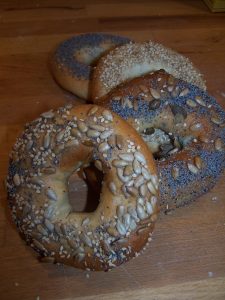 When I get my new copy of Bertinets "Crust" I discovered immediately the recipe for Bagels. It was one of the first recipes I had to try.
Since this time I baked bagels often, because we both like them very much and they are fast and easy to make. But in the last weeks I baked so much new recipes, that I neglected this recipe a little bit. So my boyfrind asked me this weekend, if I could make bagels again. Of course I could!
The dough is a very stiff one, so that the machine had to work very hard, but the good thing is, that you can work with the dough without sticking.
Another nice thing about bagels is, that you can refridgerate the formed bagels over night, at the next morning you just has to boil and to bake them, so you get fresh bagels for breakfeast without alot of work.
This time we let them raise while we did a nice walk and meet some beautiful canadian geese, which decided to found a colony ad a small water reservoir nearby.
Bagel
yields 14 Bagel
Preferment
200g flour (Typ 550)
5g yeast
100g water
Dough
550g flour (Typ 550)
250g water
10g salt
20g honey
Topping
Seeds like seame, poppy seeds, pumkin seeds, sunflower seeds
Mix the incredients for the preferment and proof for 2 hours.
Then add the incredients for the dough to the preferment and knead untill medium glutendevelopment.
Ferment the dough for 1 hour.
Divide the dough into 80g pieces and form them to rings.
Proof them for 1,5 hours.
Then cook them for 30 sec each side in boiling water.
Place the bagel on a baking sheet and sprinkel them with seeds.
Bake them at 250°C for 15 min.
[tab:END]
Viele schöne Brote kann man bei Susans wöchentlichen Yeastspotting sehen!