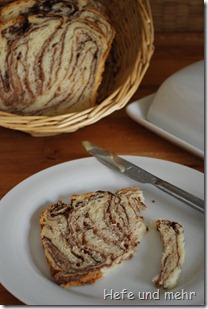 At Happy Home Baker, the source for the in german blogs so famous hokkaido milk bread, I found this beautiful bread with a zebra pattern.
I baked it already two weeks ago but having a busy time in lab (again) I had no time to post it. I hope I post it now in time for yeastspotting.
The bread has the same wonderful soft crumb as his famous cousin hokkaido milkbread. To achive a cotton soft structure I used water roux. Water roux is a mixture that contains of 1 part flour and 5 parts water and which is heated to 65°C. It cause the starch to gelatinization, so it binds more water, which make the bread softer and fluffier and enhanced the shelf life.
The bread is very delicious with a bittersweet chocolate taste. It tastes delicious on his own but with a slightly sour marmalade like red currant it tastes even better.
Chocolate swirl bread
chocolate filling
40g flour Type 550
2 egg white
100g sugar
160g water
40g cacao
1 pinch salt
20g Butter
Water roux
30g flourType 550
150g Wasser
Teig
570g flour Typ 550
150g Milk
10g fresh yeast
150g cream
2 egg yolk
80g sugar
all of water roux
5g salt
Seeds of a vanilla bean
For the chocolate filling mix egg white and flour until lump free. Heat water with cacao and sugar until it starts boiling. Remove from the heat and stir in the flour-egg white mixture. Place on low heat again and whisk until the chocolate filling comes together.
For theWater roux whisk water and flour until lump free, then heat it up to 65°C (needs about 3 min) while whisking. Fill the water roux in a bowl, cover its surface with cling foil and let it cool down to room temperature.
Dissolve the yeast in the milk, then knead in the kitchen machine with egg, cream, salt, flour and water roux for 5 min at slow speed.
Then knead 7 min at middle speed. Because the sugar inhibits the gluten development, sugar is added after a nice gluten network is formed. Add always a tablespoon at once and knead in until it is complete incorporated before adding another tablespoon. At least add the roasted almonds and knead on low speed until combined.
Rest for one hour.
Roll the dough to a square with an edge length of 30 cm x 45 cm and put the chocolate filling in the middle. Fold the dough over the filling and roll to a square without pressing the dough to much.  Fold the dough in thirds (like a letter) and repeat the rolling and folding steps for another two times.
Now roll the dough into a square with an edge length of 30cm x 30 cm and roll this to a log. Cut the log lengthwise and twist the halves around each other. Place in greased Bread pan (30 cm length) and proof for 90 min.
Preheat the oven to 200°C. Place the bread in the oven, create steam with a spritzer, then close the door and reduce the heat to 180°C. Bake for 35 min.