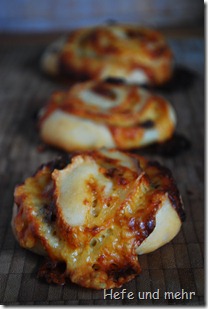 It seems like the hot summer is already gone but the weather is still good enough for day trips.
For Hiking or as a snack for work I like to bake pizza rolls very much. This time I tried a new variation and baked Pizza swirls.
For the filling I decided to take a mixture of sour cream, grated cheese, dried tomatoes and Kalamon olives.
The sour cream make the filling creamy and the kalamon olives add so much flavour to the swirls.
I am addicted to kalamon olives. They have a deep purple colour and they have a strong aromatic taste because they are harvested when they are ripe. There is no need to colour this olives.
Pizza Swirls
enough for 25 pizza swirls
Poolish:
0,5g fresh yeast
150g water
150g flour (Type 550)
Dough:
500g  flour (Type 550)
1g yeast
290g water
30g olive oil
10g salt
whole Poolish
Filling:
300g grated cheese
200g sour cream
50g Kalamon Olives
25g dried tomatoes
1 garlic clove
Salt
Mix all ingredients for the poolish and ferment it for 12 hour at room temperature.
Add al ingredients for the dough to the poolish and knead the dough for 5 min. The dough is a little bit sticky now, but that is ok.
Now place the dough in a good oiled container and ferment for 2 hours. Give the dough two folds during this time.
In the meantime prepare the filling: Soak the dried tomatoes in hot water for 30 min. Chop the Kalamon olives and the soaked tomatoes. Mince the garlic and mix all ingredients. Season with salt.
Flatten the dough to a rectangle and coat with the filling. Roll it from the long side rather loosely into a log. Cut in 3 cm wide slices, place on a paper lined baking tray and proof for one hour.
Preheat the oven to 200°C (180°C in an convection oven) and bake for 30 min.
Like every week I submitt this entry to Susans weekly Yeastspotting.