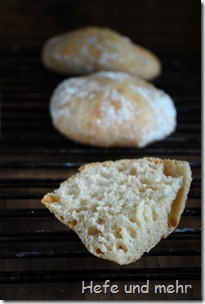 And now the next recipe for people like me, who like to eat fresh rolls for breakfast without getting up very early in the morning.
This time its very easy, with yeast, water, salt and spelt flour.
The spelt flour and the long fermentation gave a very delicious taste to the rolls. The dough was rather wet, but with some flour I could handle it good and that a wet flour has positive results on the crumb I could already hear when I drew them out of the oven. The rolls crackled and sing and when I cut them I had a open crumb halfway to the open crumb of a ciabatta. They taste very good still warm with orange marmalade or cold later the day with some cheese and lettuce.
Spelt rolls
300g Water
3g fresh yeast
8g Salt
400g Spelt flour Type 630
At the evening dissolve yeast and salt in water, then add the mixture to the flour in a big bowl. Mix everything together to a bowl. Let it rest for 30 min. Now fold the dough from the sides of the bowl into the middle. Let the dough rest for another 30 min.
Repeat the folding for another 2 times, then let the dough rise overnight (8-10 hours) at room temperature.
The next morning divide the dough into pieces of about 80g. Flat each piece a little bit, then fold the dough from each side to the middle, to form a square. Proof them on the seamside for one hour.
Heat the baking stone to 250°C in the meantime.
Bake at 250°C for 20 min with steam.