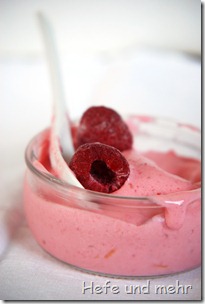 The last days were really warm and humid – it seems like summer is already here. And so it is time to start the ice cream season.
In the lab we did already the first ice cream of summer, our favourite lemon yoghurt ice cream.
After we spend a lot of time in a hot train on our way home after work, the boyfriend and me needed something to cool down again. And so I inspected the content of the fridge and decided to prepare a sour cream – curd ice cream with raspberries.
I like this kind of fruit ice creams at hot days very much.
This recipe is easy to prepare and delicious creamy, with potential as favourite ice cream of the summer
Sour cream – Curd Ice cream with Raspberries
200g raspberries
100g cream
200g sour cream
200g curd
125g powdered sugar
25g honey
juice of a 1/2 lemon
1 Pinch Salt
Puree raspberries with cream, honey and sugar. Stir in  Curd and sour cream and season with lemonjuice and salt. Freeze in the ice cream maker as described in the manufacture's manual.