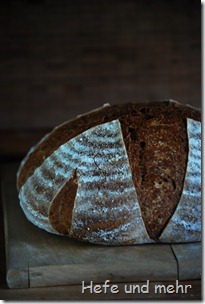 This bread is baked memory at a beautiful vacation in the Lüneburger heath two years ago.
In this region, like in other moor and heath regions with meagre farmland, growing grains is difficult. For centuries, buckwheat was grown instead of wheat or rye in this regions, until growing potatoes became popular during the regency of "old Fritz". In Germany, buckwheat is sometimes called "Heidekorn" what means heath grain, referring to the fact that its mainly grown in heath regions.
Buckwheat is not a real grain, it belongs to the family of Polygonaceae and is related to sorrel and rhubarb. Buckwheat contains not gluten and can added to bread only in small amounts.
When I found some leftover buckwheat flour which I bought during our vacation, I decided to use it an a bread dough.
Heath bread
Sourdough
175g flour Type 550
175g Water
17g sourdough
Dough
sourdough
875g flourType 550
100g whole rye flour
100g buckwheat flour
680g Water
20g Salt
5g fresh yeast
In the evening mix water, flour and starter for the sourdough and ferment for about 10 –12 hours at 25°C.
Mix all ingredients for the dough  and knead it for about 5 min at low speed, then 8 min on high speed until medium gluten development.
Ferment for 2 hours.
Half the dough and form each half to a round loaf. Place each loaf in a proofing basket, with seam side up.
Proof overnight in the fridge,
In the morning heat the baking stone at 250°C.
Prior to baking, slash the loafs and bake the breads for 15 min at 250°C with steam then reduce the temperature to 220°C and bake for another 30 min.
I sent this entry to Yeastspotting, Susans weekly showcase of yeast baked good.