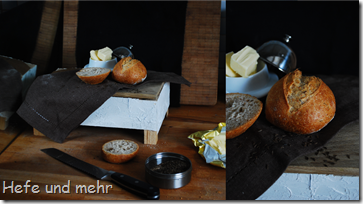 Zorra has revitalized her Food-o-grafie event. A good Idea, because I love to look behind the curtains and see how other food blogger take their pictures. In the first event, Zorra asked us to tell a little bit about our camera and if we bought them especially for blogging.
For me, taking pictures is as naturally as breathing. I grow up with cameras around me because my father is a amateur photographer. My first camera was a christmas present for my sister and me. It was a Olympus compact camera – of course it was an analog film camera . I think I was around 10 years then and I used this camera for a long time. When I started at university I bought my first digital camera, a little HP, no Zoom but with 2 MP resolution. Today any mobile has a better resolution, but 10 years ago it was state of the art! But soon I wanted more, a better resolution and a Zoom. And so I bought my Kodak Z740 in 2005. I take the first pictures on this blog with this camera. But then the prices for digital SLRs started to drop and 2009 I saved enough from my salary as Ph.d-Student to buy the camera I'm using since then as a birthday present to myself:
My Nikon D60
The Nikon D60 has a Senor of 23,6 × 15,8 mm size witht 10,2 Megapixels. The Iso ranges from Iso100 to Iso1600. I can not take videos with it, there is no GPS function or Wlan include. But I don't care about this stuff, it is a DSR and not my mobile phone. I did not buy the SLR for my blog especially but of course I'm taking the picture for the blog with it, too.
When I bought my D60, it was already an old model. But after three and a half year I'm still very happy with it. What I miss sometimes is a live-view mode and a rotatable display. Not for food pictures but for pictures of flowers or little animals. But on the other hand I'm not afraid of getting diry and so you can find me sometimes laying on the ground in the garden or in the woods, taking pictures of little plants, mushrooms, butterflies or lizards.
Lenses
I own two lenses, the 18-55mm that came with the kit and a 55-200mmwhich I bought one year later. I have three close-up filters as well. For food photos I use both lenses and sometimes the +1 or +2 close-up filter, depending on what effect I want.
Zorra asked as well if there is a camera of my dreams. To be honest, there is not. I learned in the last years that its not only a good camera or specific lens which you need for good pictures. You need practice (a lot of practice) and you have to learn how to handle your camera and its functions. And as long as I'm stilling learning how to use my camera, there is no reason to buy a new one. At the moment I practices how to arrange the picture.
But to tell the truth: I'm still dreaming of a real macro lense!