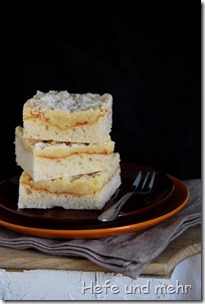 Streuselkuchen is a simple cake.
But it is although an art to bake the perfect Streuselkuchen. The yeast dough should be not dry, but rise fluffy and light. The streusel has to be crisp but not hart. A favourite cake of mine which awakes great expectations in me. And often disappoints them.
But finally I found my perfect comination of dough and streusel. The dough recipe is a slightly modified variation of the swiss butter braid which contains a little bit more sugar. And for the streusel I decided to add a pinch of baking powder. An experiment with a very good result.
When I cut the cake into slices I could already see that the dough has risen to a soft and tender crumb with thick crisp streusel as contrast. A thin band of apricot jam conect both layers in a fruity way.
That is my perfect Streuselkuchen!