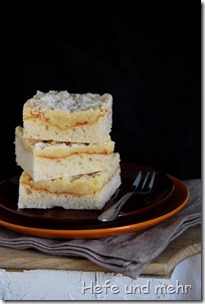 Streuselkuchen is a simple cake.
But it is although an art to bake the perfect Streuselkuchen. The yeast dough should be not dry, but rise fluffy and light. The streusel has to be crisp but not hart. A favourite cake of mine which awakes great expectations in me. And often disappoints them.
But finally I found my perfect comination of dough and streusel. The dough recipe is a slightly modified variation of the swiss butter braid which contains a little bit more sugar. And for the streusel I decided to add a pinch of baking powder. An experiment with a very good result.
When I cut the cake into slices I could already see that the dough has risen to a soft and tender crumb with thick crisp streusel as contrast. A thin band of apricot jam conect both layers in a fruity way.
That is my perfect Streuselkuchen!
Streuselkuchen
Pâte Fermentée
175g flour Type 550
125g Water
2g fresh yeast
3g Salt
Dough
Pâte Fermentée
275g Flour Type 550
50g Speltflour Type 630
175g milk
3g Salt
10g fresh yeast
50g sugar
100g Butter
Glazing
Streusel
400g flour type 550
250g Butter
200g sugar
2g baking powder
a little bit water´, if needed
Mix all ingredients for the Pâte fermente and proof it for 1 hour at room temperature. Then put the dough into the fridge for 12 hours.
Knead all ingredients except the butter for 5 min at slow speed.
The knead 7 min at slow speed. At last add the butter all at onc and knead untill the butter is completly incooperated.
Proof for one hour.
Roll the dough to the size of the baking tray. Transfer the dough to the paper lined baking Tray, spread with apricot jam and top with Streusel.
Proof for about 1 hour.
Preheat the oven to 180°C.
Bake at 180°C for about 35 min with steam.
I sent this entry to Yeastspotting, Susans weekly showcase of yeast baked good.