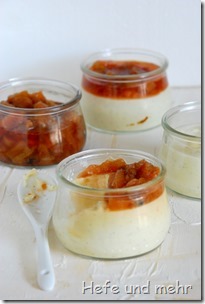 I liked to use second part of my oven roasted rhubarb in a delicious way, too. And when I saw the Curd-Mousse, that Micha made, I was instantly in love. Micha found the recipe on Verenas Blog Schlammdackel, and Verena found it at Living at home. In the original recipe, the Mousse was made with sea buckthorn berries, but Micha used strawberries instead. I like strawberries as well but the fact that I'm allergic against them made it necessary to change the recipe.
To cut a long story short: I made the Mousse with oven roasted rhubarb instead of buchthorn berries or strawberries. And that tasted great, too.
I think this Mousse is a great basic for a lot of different fruits. I can not wait to try it with some fresh blueberries, or raspberries, or…
Curd-Mousse
4 small Portions
100g whipping cream
50g Orange juice
1g Agar
30g sugar
1/2 vanilla bean
grated peel of 1/2 Orange,
200g Curd
300g Roasted rhubarb
Whip the cream to soft peaks.
Bring Orange juice, sugar, the scrapped seeds of the vanilla bean, orange peel and agar to boil and let it boil for one minute. To prevent the forming of Lumps add the curd now spoon wise, so that the juice with the agar do not cool to quickly. Fold in the cream and fill in small glasses. Cool in the fridge for at least one hour.
Add the rhubarb just before serving