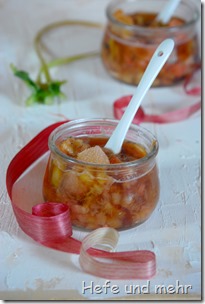 Opinions are divided over Rhubarb. Some dislike this sour vegetable very much, other – like me – love it. I love to drink Rhubarb Schorle in the summer or eat rhubarb in cakes, with pancakes or – really simple – as compote.
The oven roasted rhubarb I made two times last year: one time as a filling for cream puffs and one time for Rhubarb Napoleons. Both times I was completely stunned by the taste of the compote.
During roasting in the oven, the rhubarb develops a deep caramel flavour which is nicely underlined by the vanilla flavour while the tart taste is well balanced with sugar.
This time I served it only with some whipped cream, a simple but perfect dessert for spring!