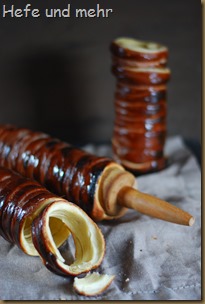 Some recipes are so time consuming that they were only made for big events. The Baumstriezel is one of these recipes, something my Transylvanian ancestors would have bake for weddings and christenings. And maybe for a 5th Blog birthday as well?
A traditional Baumstriezel is baked over red hot coal wrapped around a  big piece of wood, rotating the cake until the sugar starts to caramelize. Even nowadays it is made rather seldom and so I'm always exited when I could get a piece.
So it seemed the perfect recipe to celebrate the fifth birthday of "Hefe und mehr". But how to make such a cake without open fire in the kitchen (when setting the kitchen on fire was no opportunity)? I decided wrap the dough around a wooden rolling pin  and to use the overhead grilling function of my oven for baking. That means that I had to stay in front of my oven all the time during baking. Every minute I turned the rolling pin a little bit until the sugar caramelized at all sides.
It was quite time consuming but it worked out perfectly. And so I could enjoy some sweet Baumstriezel to honour my Blog Birthday (with ongoing Blogevent).
Baumstriezel
for 3  Striezel
Dough
350g flour Type 550
150g Milk
55g Egg (1 big egg)
30g sugar
5g Salt
7g fresh yeast
70g Butter
Topping
40g Butter, molten
60g Sugar
Dissolve yeast in milk and mix with egg, flour,sugar and salt and knead for 10 min with hand. Now add all of the butter and knead until well incooperated.
Let rise for  2 hour.
Divide the dough to 3 pieces and roll each piece to 0.5 cm Thickness.
Proof for 30 min
Turn the overhead grilling function in the oven on 250°C.
Cut the dough into a spiral, forming one long band with 1 cm width. Grease the rolling pin and wrap the dough around it. Brush with molden cover and turn in sugar to cover all the surface with sugar. Cover the handles of the rolling pin with some aluminium foil.
Place on a baking pan so it does not touch the rims. Place under the overhead grill and turn every minute until the sugar melts and starts to caramelize.
Take from the oven, let cool down a little bit so that the sugar will be firm and take it from the rolling pin.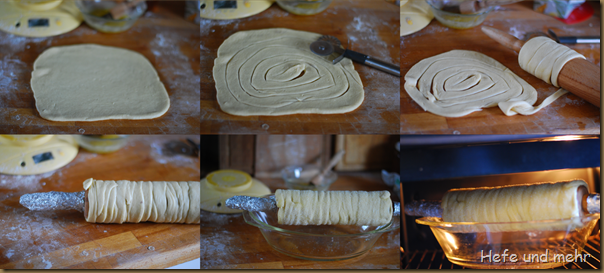 I sent this entry to Yeastspotting, Susans weekly showcase of yeast baked good.