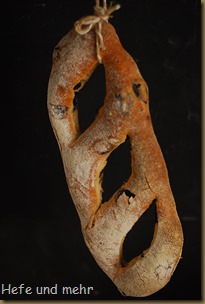 There are still recipes missing from my big batch baking day before easter. But I haven't forgot about them! So here comes the next one: Olive Fougasse. The dough of this fougasse is in principle identical with my favourite bread, in which I kneaded some kalamata olives.  For a really good flavour it is important to use real black olive, who could ripe and develop their full flavour, and not the one, which are dyed! It makes so much a different! A Fougasse is the perfect party bread in my opinion. It taste great, looks great and you can easily break it in pieces and share it with your friends. And with some olives added it is a great side for barbeque (at least for olive lovers like me).
Olive Fougasse
Pâte fermentée
75g flour Type 550
55g Water
1g Salt
1g fresh yeast
Sourdough
50g Water
50g flour Type 550
5g Sourdough
Teig
Pâte fermentée
Sourdough
100g Ryeflour Type 1150
275g flour Type 550
225g Water
10g Malt
10g Olive oil
10g Salt
5g fresh yeast
150g black Kalamon Olives
Mix water, flour and starter for the sourdough and ferment for about 12 -16 hours at 25°C. Mix all ingredients for the Pâte fermentée and proof it for 1 hour at room temperature. Then put the dough into the fridge for 12 hours. The next morning knead all ingredients 5 min at the slowest speed and 8 min at higher speed until medium gluten development. Let rise for 1.5 hours Divide the dough into two parts. Form to two 30 cm long loaves (like thick baguettes) and cut them three times diagonal (picture below).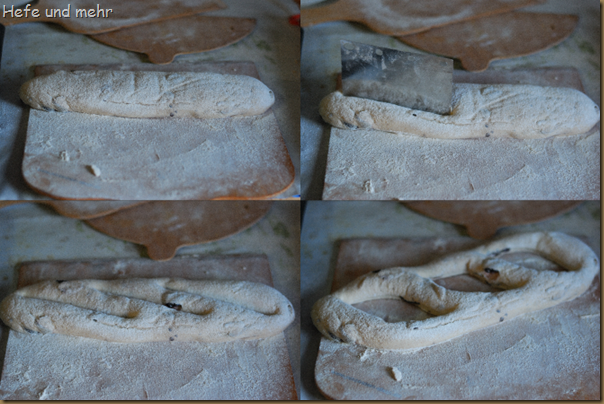 Draw the cuts open and let the bread proof for 1 hour on a well floured peel. In the meantime preheat the oven to 250°C. Place the breads in the oven with steam. Bake at 250°C for about 15min.
I sent this entry to Yeastspotting, Susans weekly showcase of yeast baked good.