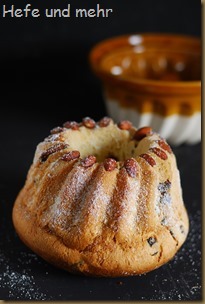 Nearly a year has passed since our visit in Alsace in our summer vacation. One of the souvenirs  I brought home after two splendid weeks in france was a clay baking form for Kougelhopf. It is sitting on my kitchen cabinet since then, waiting for me to create a recipe for Kugelhopf.
This weekend I finally found the time to study different Kougelhopf recipes. But I did not like them, all of them use a lot of yeast and give the dough no time to rest properly to develop a good flavour. And I wanted a recipe which uses a preferment for better taste and longer shelf life! And so I decided to use my own interpreation with a sweet starter which helps to rise the buttery dough without using a lot of yeast.
The cake is more time consuming then other recipes you may find in the web, but it develops a fine complex flavour and light and feathery crumb. I imaging that even my alsacian great-grandmother would have enjoyed it!
Alsacian Kougelhopf
for 2 Kougelhopf pans with 19 cm Diameter
Sweet Starter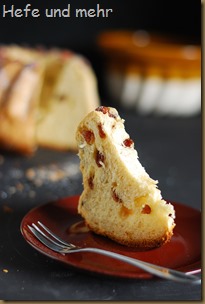 Soaker
Dough
Sweet Starter
275g flour Type 550
160g Egg (3 eggs size M)
20g Water
5g Salt
1/2 vanilla bean, use the scraped pulp
15g fresh yeast
200g cold butter
100g sugar
Decoration
Mix all ingredients for the Sweet starter and let it rise for 3 hours at 30°C.
Bring water to boil and soak the raisins for 1 hour. Drain them very well.
Knead all ingredients except sugar and butter for 5 min at slow speed. The knead 5 min at fast speed. Now add sugar in three increments and knead a always a minute inbetween. Now add the butter (cut into small pieces) all at once and knead until full gluten development (about 15 min) at fast speed. The dough should be now soft and silky. Now knead the raisins into the dough.
Let rise for two hours, then chill the dough for another 2 hours in the fridge (or overnight).
Grease the Kougelhopf pans and lay a almond into each indentation on the bottom of the pan.
Divide the dough into two equal pieces and shape it into balls . Rest for 10 min. Now press a hole in the middle of the loaves using your fingers and widen it to form a ring which fits into the pan. Place the dough into the pans.
Proof for 2.5-3 hours at 30°C (oven with lights on and a bowl with boiling water inside) until the volume has more then doubled!
Bake at 160°C for 60 min with steam.
I sent this entry to Yeastspotting, Susans weekly showcase of yeast baked good.