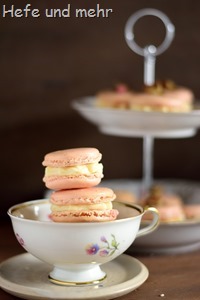 When I read about the "Törtchen-Törtchen book on tour"-Challenge I was hooked. I love baking Mousse-Cakes (Törtchen) and I like Matthias Ludwigs recipes for them. They work well both as whole as you can see here with the Apple tartlets as well as in parts like the sponge here in this Peach recioe.
The sobering came when the book arrived. I had to pick from four: a cupcake (too much buttercream and finding fresh apricots in October would be a  mission impossible),  a brownie filled with fruits (even the picture in the book was not appealing), pecan caramel tartlet (means shortcrust filled with nuts and caramel, sweet and boring) and Macaron lollies (why to put a macaron on a stick?). So I send a mail asking if I could maybe get another recipe, but the answer was short and clear: It had to be one of these four.
Sighed. So Macarons it will be…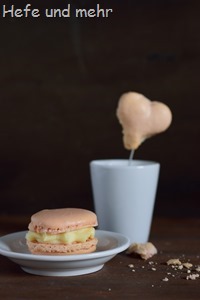 Filling Macarons with a raspberry ganache like the recipe from the book asked for is a good but plain thing. To get a bit more thrill into this I like to combine the ganache with lemon curd, something I did already this summer. But to bake this again would be rather boring. So I decided to do what I always do: Change the filling recipe! It would be a good excuse to test the rosewater ganache filling I had in my mind anyways.
But when I took a closer look into the recipe I sighed again. The egg white was given in Numbers instead of Gramm. But a egg size can vary from "S" to "XL" and this means that two egg whites can be something between 55g and 100g. And a recipe from a bakery which uses egg white from a tetrapack which has to measured by Gramm could be at least give the amount additional as Gramm, too! And for boiling sugar syrup a concrete temperature would be rather helpful, too!
As the ratios of ingredients fits to the ratio of Hermès recipe, I decided to use the same amount of egg white like he does. And for the sugar syrup I go for his directions, too. And then the recipe works like a charm and yields perfect macarons: No broken shells and with nice "feets".
And so I'm satisfied with the macarons in the end – but not with the recipe from the book. It is not precise enough and so it is hard for a (Macaron-)Beginner to achieve reliable results. And so I wonder why in a otherwise good book about mouse cakes there had to be a macaron recipe? And why it has to be a "Macaron on a stick"-Thing is another question I ask myself as there are many nice recipes for making Macaron cakes in Dessert size.
Rosewater Raspberry Macarons
Macarons
85g finely grounded almonds
85g powdered sugar
a bit red food colour
60g egg white
85g sugar
30g Water
Rosenwasser-Ganache
60g cream
200g white chocolate, chopped
20g Rosewater
1/4 Tl. Fleur de Sel
30 dried Raspberries
For the Ganache bring the cream to boil, stir in the chocolate and let it sit for 5 min, then stir again until all chocolate is dissolved. Add salt and rosewater.  Place in the fridge for at least 1 hour.
Mix grounded almonds and powdered sugar in a food processor until very fine. Sieve the almonds through a fine sieve.
Now bring the sugar and water to boil, while whipping the egg white to soft peaks. When the sugar syrup reach 118°C add it to the egg white while whipping. Continue whipping until the egg white cools to 50°C. Now stir in the food colour. Add the egg white to the almonds and egg white in the bowl and fold into the mixture. The mixture should be able to flow slowly from a spoon.
Preheat the oven to 150°C.
Bake at 150°C (Convection mode) for about 17-20 min.
To fill the  macarons pipe a ganache on a macaron shell, then place a dried Raspberry in the middle with and place a second macaron shell on top. Let them rest for 24 hours in the fridge before serving.