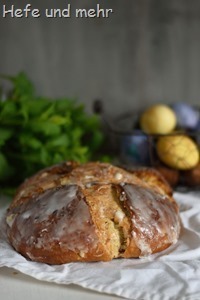 For our Easter Brunch with the family I baked different goodies: a varity of roles, easter bunny buns, a cake with rice pudding and an Easter Bread. The Easter Bread is this year nearly a brioche as it contains a generous amount of butter.  The amount of butter and the addition of fruits and nuts makes it necessary to knead the dough to full gluten development. This needs some patient but you will be rewarded with a tender and light crumb which can be torn into long pieces.
The subtle flavour of the sweet starter is accomplished by a mixture of vanila, orange zest and saffron. As an addition the dough contains raisin, almonds and pearl sugar which makes it one of the richer ones in my repertoire.  It is a delicious bread which needs no spread, even butter is not necessary, it is able to shine all by its self!
Easter Bread
yied one bread
Sweet Starter
Raisin-Soaker
80g Raisins or Sultanas
50g Almonds cut in pieces
Dough
Sweet Starter
420g flour Type 550
225g Milk
75g sugar
125g Butter
55g Egg (1 egg size M)
10g fresh yeast
6g Salt
seeds of 1/4 vanilla bean
peels of 1/4 orange
0.5g Safron
Raisin-Soaker
pearl sugar
Dekoration
Glazing
50g Powdered sugar
a little bit lemon juice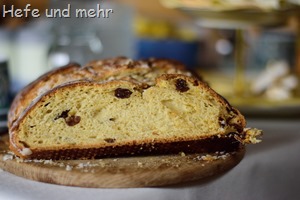 Mix the ingredients of the sweet starter and let it rise for 2-4 hours at 30°C.
For the soaker cover raisins and almonds with boiling water and soak for one hour, then drain will.
Mix flour, sweet starter, milk, egg, yeast, salt and spices and knead for 5 min at slow speed. Then knead 7 min at fast speed. Now add the sugar in small increments and knead until the sugar is incooperated before adding the next sugar. At last add the butter all at once. Knead to full gluten development.  Now add the well drained raisin soaker and the pearl sugar and knead at slow speed until everything is well combined
Let rise overnight in the fridge or  for one hour temperature plus 1-2 hours in the fridge.
Form into a round loaf, place in a proofing basket and proof for 90 min.
Brush again with egg and slice cross wise. Bake at 180°C for about 40 min with steam.
Mix powered sugar and citron juice and glace the bread after it has cooled down.