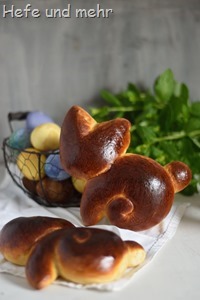 Easter without some Easter Bunny Buns is possible – but somehow sad. Easter Bunny Buns in various shapes belong to my Easter Breakfast since childhood. And so I used some of the dough I kneaded for the Easter bread to form some Bunnies, too.
For an easy shaping two things are important: kneading the dough to full gluten development and cooling the dough for about two hours in the fridge. This solidify the butter and adds some plasticity to the dough. The bunnies I formed with the cold dough are simple but already the forth variant I have on the blog (Here you can find Number one, two and three. Its already a little collection of possible shape 😀 !
Easter Bunny Buns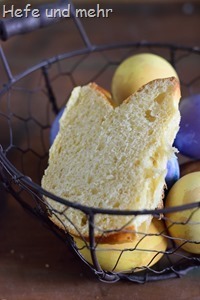 yield six Easter bunnies
Sweet Starter
Dough
Sweet Starter
420g flour Type 550
225g Milk
75g sugar
125g Butter
55g Egg (1 egg size M)
10g fresh yeast
6g Salt
seeds of 1/4 vanilla bean
peels of 1/4 orange
0.5g Safron
Dekoration
Mix the ingredients of the sweet starter and let it rise for 2-4 hours at 30°C.
Mix flour, sweet starter, milk, egg, yeast, salt and spices and knead for 5 min at slow speed. Then knead 7 min at fast speed. Now add the sugar in small increments and knead until the sugar is incooperated before adding the next sugar. At last add the butter all at once. Knead to full gluten development.
Let rise for one hour temperature plus 1-2 hours in the fridge.
Divide into six 100g portions, six 60g portions and six 10g portions. For the body, roll the 100g Portions into 30 cm long strands with thinner tips. Roll each into a snail. Then form round balls from the 60g and 10g portions. Roll the 60g portions into a drop shape and  cut the thinner part so that it forms a "V". Place the bunny on a baking tray with the "snail" for the body, the drop for the head and the little ball as tail Form into a round loaf.
Proof for 90 min.
Brush with egg and at 220°C for about 12 min with steam.